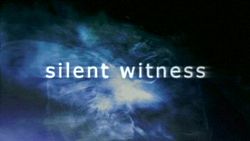 Silent Witness is a BBC crime thriller series focusing on a team of forensic pathology experts and their investigations into various crimes. First broadcast in February 1996, and ongoing as of 2012, the series was created by Nigel McCrery, a former murder squad detective based in Nottingham. He later went on to create the hit series New Tricks with writer Roy Mitchell.
Background and Overview
Edit
The original series was based on Professor Helen Witwell, a forensic pathologist based in Sheffield, whom McCrery had known while serving as a police officer. The programme originally followed the activities of a female pathologist, Professor Sam Ryan, played byAmanda Burton.
However, Ryan's character departed early in the eighth series in 2004. There had been a succession of regular supporting characters, changing almost every series, but Dr Leo Dalton (William Gaminara) and Dr Harry Cunningham (Tom Ward), who were introduced in the sixth series in 2002, remained in the series and continued as lead characters following Ryan's departure, with Dalton replacing her as professor.
A new character, Dr Nikki Alexander (Emilia Fox), was introduced to the team in the eighth series in 2004. While working as a forensic anthropologist, she appropriates facilities and software in the pathology department to analyse an Iron Age find, with the belated, bemused and begrudging approval of Dalton. Dr Alexander is able to assist in a set of cases being investigated by the team, as it turns out she had "worked in forensic pathology in Johannesburg for six months" and is Home Office certified to practise. She is of such assistance that she overcomes Leo's reluctance and, with Harry's support, is offered and accepts a position on the team.
After the fifteenth series, in 2012, Harry leaves the Lyell Centre to accept a job in America. At the beginning of the sixteenth series, the team is joined by forensic scientist Jack Hodgson (David Caves) and his lab assistant Clarissa Mullery (Liz Carr). Following an unexpected tragedy, Dr Thomas Chamberlain (Richard Lintern) takes over as head of the Lyell Centre from Leo in the seventeenth series.
Meet the main characters (Click a picture to go to their page)
Quick Links
Edit
Show Page: Silent Witness
Helping out:
Edit
To write a new article, just enter the article title in the box below.
Not sure where to start?
Adding content

BBC Shows
Go to these sites for info or for help with your own wiki!
Being Human • Blackadder • Casualty • Death in Paradise • Dirk Gently's Holistic Detective Agency • Doctor Who • Eastenders • Holby City • Luther • Merlin • Monty Python • Orphan Black • Sherlock • Top Gear • Walking With... • Waterloo Road
Want your community included? See how!

UK shows by network: BBC Network • CBBC Shows • ITV Network • Channel 4 Network